* * *
PALM COAST WREATHS FOR VETERANS
* * *
MONTHLY BOARD OF DIRECTORS MEETINGS
ARE HELD ON FRIDAYS BEFORE MONTHLY MEMBERSHIP MEETINGS.
  

  * * *
MONTHLY MEMBERSHIP MEETINGS ARE HELD ON THE 
2ND TUESDAY OF EACH MONTH AT 11 AM
NEXT MEETING TUESDAY NOVEMBER 8, 2022
* * *

MARK YOUR CALENDARS FOR OUR
ANNUAL CHRISTMAS PARTY
DECEMBER 16TH 5PM
 PLANTATION OAKS, FLAGLER BEACH, FL
$15 PER PERSON
Catering by BeachFront Grille of Flagler Beach
Music by DJ's Thomas
* * *
HR-218 Retired LEO Firearms Qualification
The Flagler County Sheriff's Office hosts a HR 218 qualification during the Spring and Fall of each year. The Fall 2022 HR218 will be on Thursday, December 1, 2022 from 1000-1500 hours at the Flagler Gun and Archery Club.  The qualification is designed to satisfy the requirements of the Law Enforcement Officers Safety Act or 2004 (LEOSA), also known as HR 218, and is the Florida Department of Law Enforcement (FDLE) 40 round course. Certification is good for one year from the date of issuance.
This course will be held at the Flagler Gun and Archery Club, 1290 East County Road 90, Bunnell, FL 32110
Retired law enforcement officers residing in Flagler County will be given priority enrollment. Retired law enforcement officers residing outside of Flagler County may also qualify based on the availability of instructors. There is no cost for participation, donations will be accepted to the Flagler Sheriff's Employee Assistance Trust (F.S.E.A.T.).
Retired officers must bring the following to the range:
A retired law enforcement identification card. Candidate must have retired in good standing.
A Florida Drivers License or other form of photo identification.
A serviceable weapon and functioning holster to properly secure your weapon during the courses of fire.
A minimum of 50 rounds of ammunition.
Eye and Ear protection
This will be an open range qualification and there will be no reservations or preferences given. 
The first qualification will begin at 10 a.m. The course will close at 3 p.m.
The following two forms are required to be completed and may be obtained here HR218 Retired Officer Release and Indemnity Agreement and HR 218 Retired Officer Request for Firearm Qualification, or from an instructor on the day of the qualification.
2019-HR218-hold-harmless

2019-HR218-retirement indemnity Agreement
* * *
President Dave Mazzone presents Lauren Driscoll of Old Glory Service Dogs 4 Veterans a check to support this organization. Old Glory Service Dogs 4 Veterans.inc provides Training, Support and Certification to Military Veterans, Law Enforcement, Fire and EMS Personnel who are in need of a Certified Service Dog in order to reclaim their independence.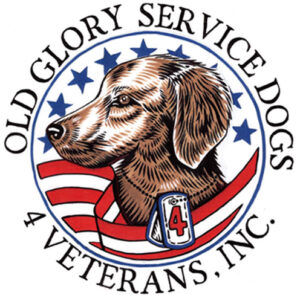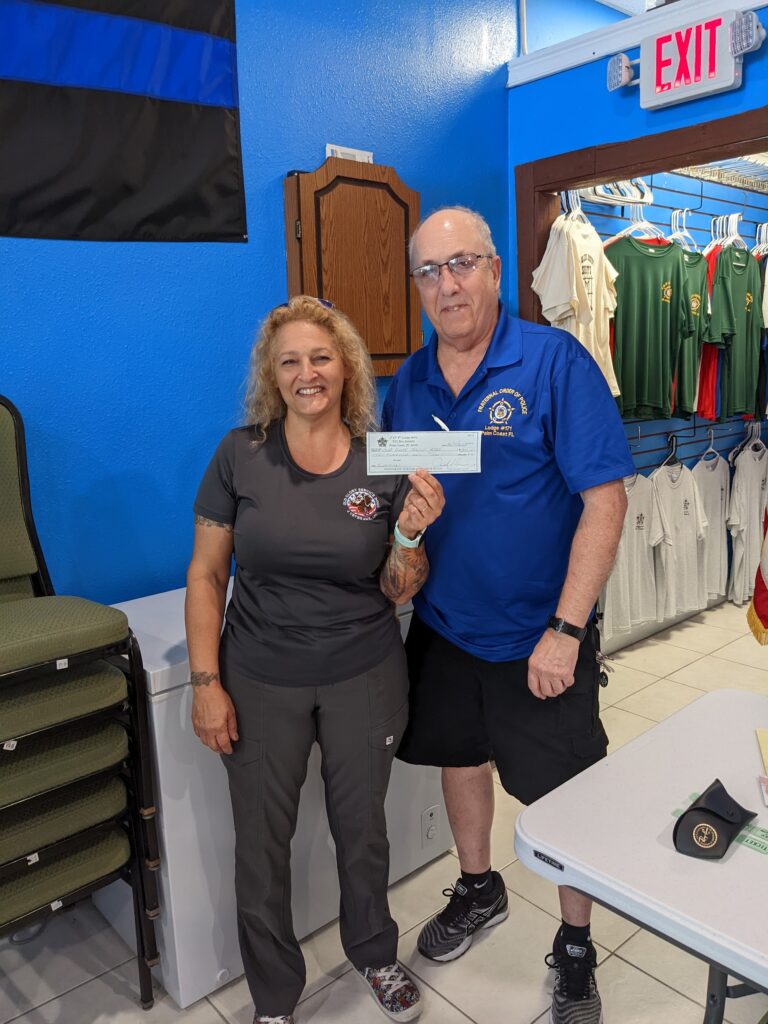 * * *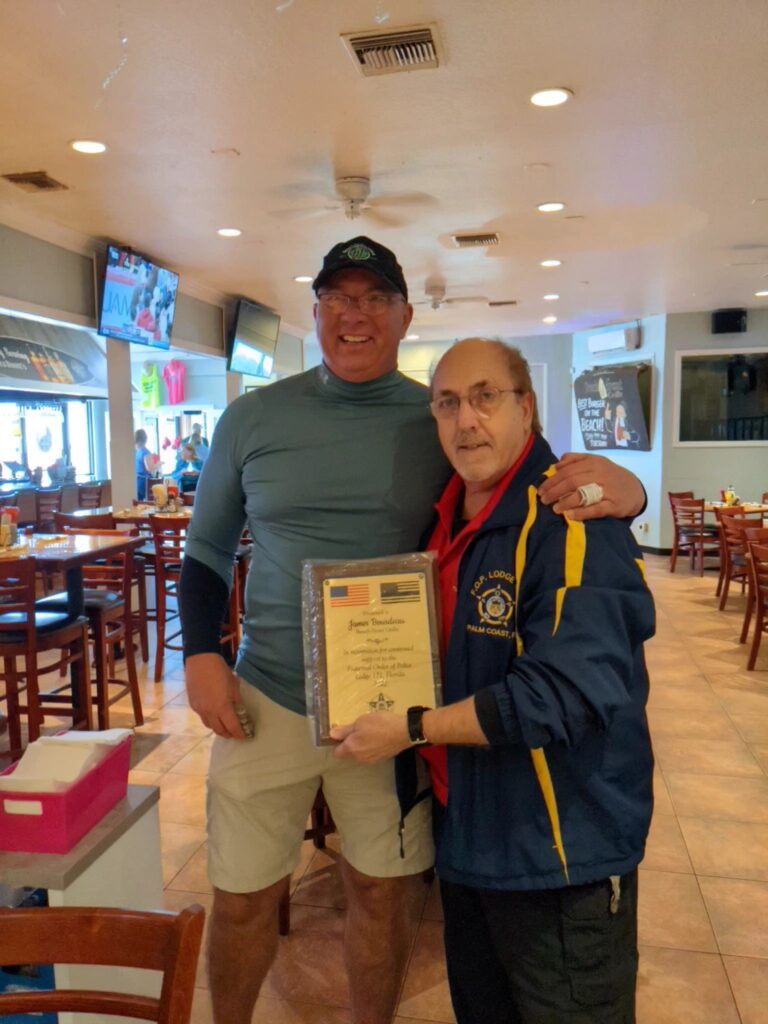 Membership in attendance when Jamie was issued the plaque.
Ron Conklin (right former President) with Dave Mazzone President center, Steve Fraas standing, George Byrne seated

FOP Lodge #171 Ron Conklin
Lifetime Member Award

* * *

  2023


BOARD OF DIRECTORS LODGE #171

PRESIDENT: DAVE MAZZONE

FIRST VICE PRESIDENT: GEORGE BYRNE

SECOND VICE PRESIDENT:   RON CONKLIN 

SECRETARY:  STEVE FRAAS

TREASURER:  TIM SMITH

STATE TRUSTEE:  JOE MONDELLO

TRUSTEE:  BILL VAN HOUTEN

TRUSTEE: ROSS BROWN

TRUSTEE: TONY MILITANO

QUARTERMASTER: JOHN CAIA

CHAPLAIN:  MARK CHAVEZ

COMMUNICATIONS: JOE MONDELLO

LADIES OF FLAGLER COUNTY
BINGO EACH MONTH AT THE LODGE  
NEXT DATE IS AUGUST 11th AT 6 PM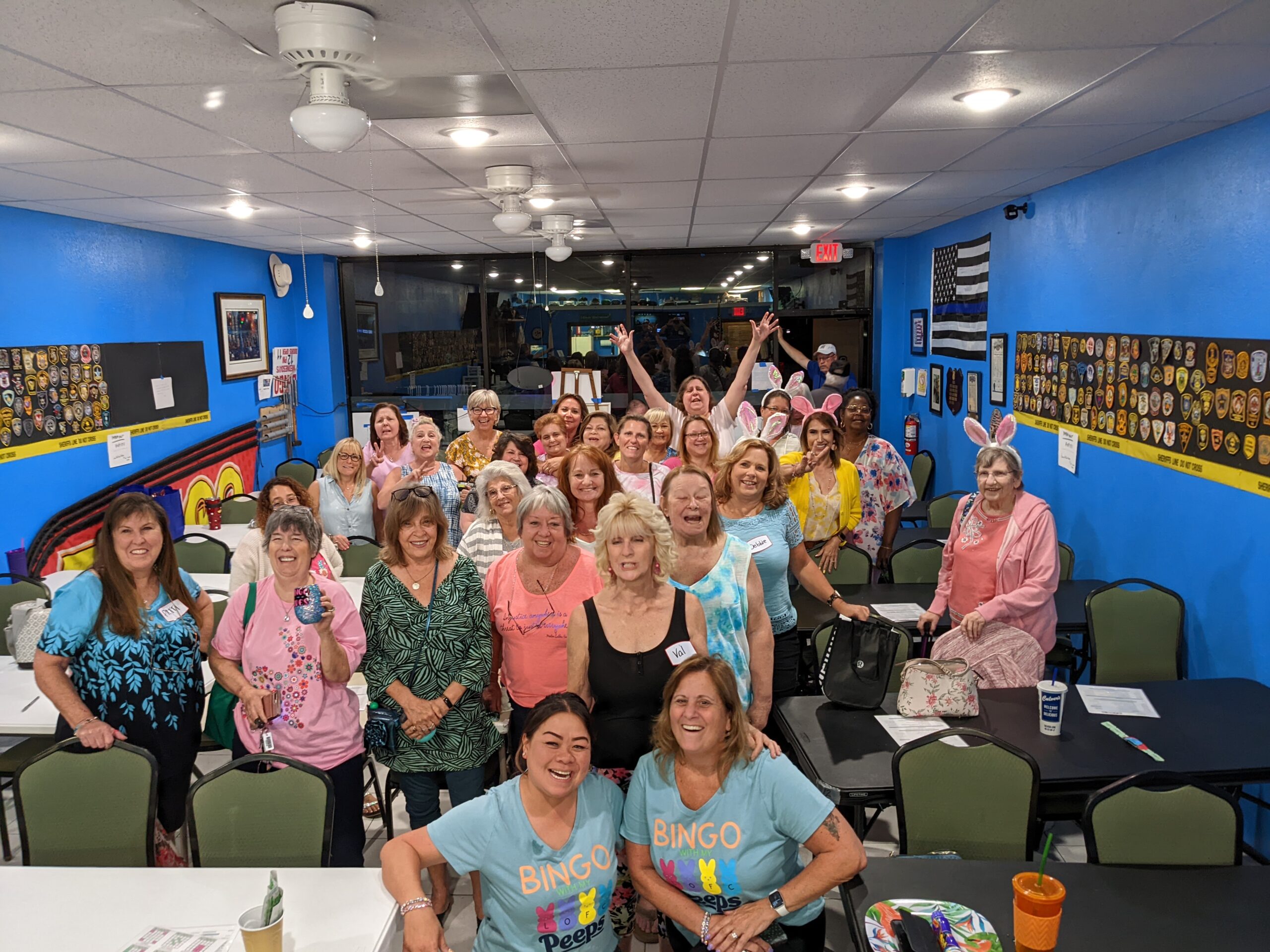 WEEKLY WEDNESDAY BINGO 12 PM                                

Painting with Terri